home>
The Geometric 30s−American Art Deco and Geometric Patterns

Collection Exhibition Series Vol.14
The Geometric 30s−American Art Deco and Geometric Patterns
The Geometric 30s−American Art Deco and Geometric Patterns (Flyer image)
The Geometric 30s−American Art Deco and Geometric Patterns (Exhibition venue)
The decorative art that bloomed in the decades between the two world wars in France is generally known as art deco. The geometric patterns, revealing a strong individuality even at first glance, can be called a symbol of the art deco period and this novel style made a strong impression on the people of the time.
Art deco, in which straight lines or circles, triangles and squares and other simple elements were arranged dynamically, or actual shapes were replaced with geometric forms to create completely new expressions, was strongly influenced by the industrialized society that resulted from Industrial Revolution of the late 19th Century, and by Cubism and other contemporary new artistic movements. The term art deco arose from the International Exposition of Modern Industrial and Decorative Arts (L'Exposition internationale des arts décoratifs et industriels modernes), held in Paris in 1925. There, in more than 100 pavilions, were displayed the latest architecture, industrial products, fashions and so forth, and visitors were fascinated with the machinery-evoking linear imagery. A complete change from the late 19th-Century art nouveau, characterized by graceful curves, this bright, fresh style that conveyed the arrival of a new era swept the entire world into the 1930s and was applied in many different fields.
Especially for the United States, great numbers of particularly modern, very strong designs were being produced that emphatically incorporated the images and forms of the machines that were being developed so quickly, and the high rise buildings that were appearing in urban areas during the same period. Boldly arranged geometric figures and designs that evoked skyscrapers with step-like shapes were welcomed in furniture, electric appliances, fashion and jewelry that evoked a particularly American modern life.
■Exhibits
Compact/Era: Mid-1930s (Left)
Skyscraper Cocktail Shaker and Tray/Designer: Norman Bel Geddes/Year: 1934 (Right)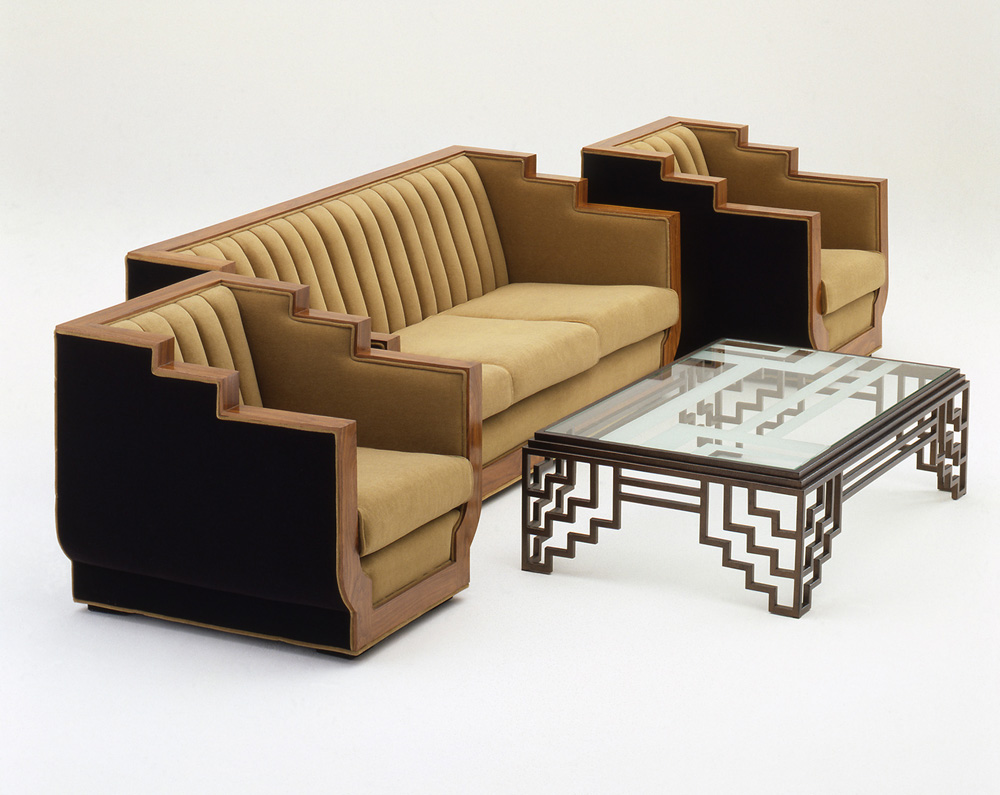 Living Room Set/Designer: Paul Theodore Frankl/Year: 1929
Geometric Design Necklace/Era: Early 1930s (Left)
The Playgoer (The Magazine in The Theatre)/Era: Early 1930s (Right)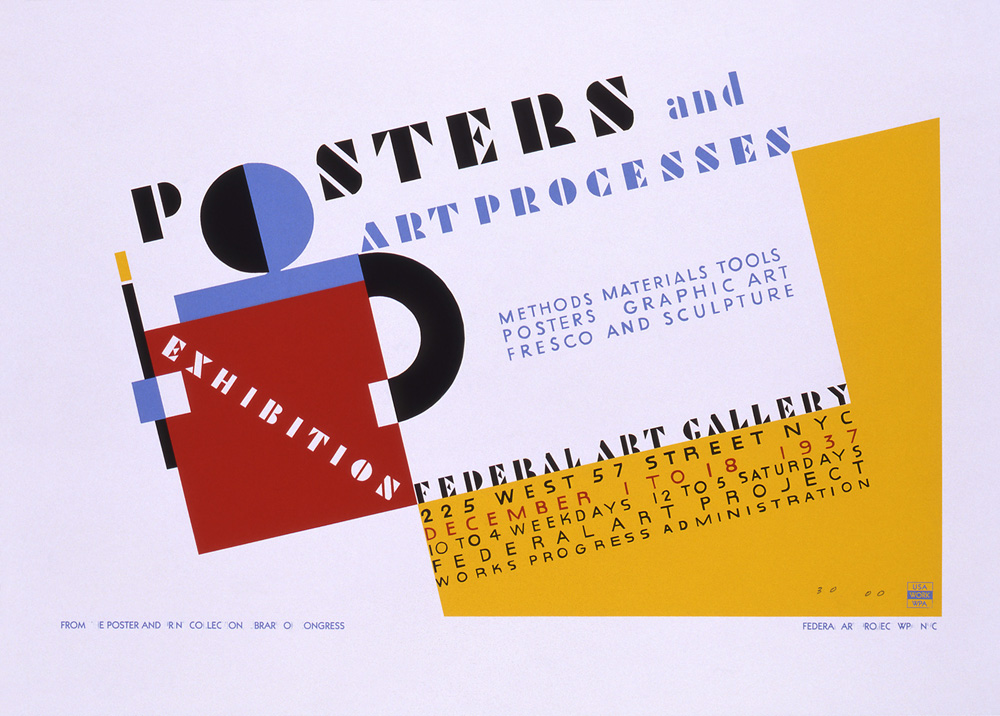 Poster for Exhibition: Posters and Art Processes/Designer: Richard Floethe/Year: 1937
Toaster/Era: Latter 1920s (Left)
Skyscraper Radio Clock/Year: 1930 (Right)
Design Museum Collection Exhibition Series vol.14
The Geometric 30s−American Art Deco and Geometric Patterns
In this volume, we presented objects of modern design with geometric aspects. There were 70 pieces in all, ranging from two-dimensional graphic and fabric patterns to furniture and appliances in which the pattern is applied in three dimensions.
Period: March 27 – May 10, 2009
Venue: Design Museum, International Design Center NAGOYA
Organizer: International Design Center NAGOYA Inc.