home>
BLACK & CHROME|American Art Deco: A Monotone World

Collection Exhibition Series Vol.7
BLACK & CHROME|American Art Deco: A Monotone World
BLACK & CHROME|American Art Deco: A Monotone World (Flyer image)
Black, not commonly used until the early part of the 20th Century in the 1930s became the darling of modern colors. Here, through 60 pieces ranging from furniture to cushions, accessories and other small items, we presented the chic modern style of the time–based on the color black.
Until the beginning of the 20th century, the color "black" is a ritual color, an unusual color, not a fashionable image.
In the 1920s, when industrial production greatly changed the production system of things, and a design style that gave off extra decoration was born, the stoic charm of "black" began to draw attention. In particular, not only the attractiveness of the color itself but also advances in materials and processing technology helped the trend of "black" in the United States. The development of a wide variety of synthetic materials including lacquer (generally synthetic lacquer) and improvement of processing technology greatly expanded the possibilities of expressions in manufacturing. Among them, the black lacquer finish got popularity with gloss with a sense of quality and was tried on every living item ranging from furniture to jewelry for women. Combining silver brackets such as chrome and silver and plating finish to black is a typical style of this period of the 1930s. Silver was a color symbolizing technology and the universe, reflecting people's future orientation and the dream to science and technology.
The design style of those days was the one that "Art Deco" originating in Europe had been washed in the waves of science technology and mass production in the United States and had its own change. In distinction from that of Europe, this style called "American Art Deco" still fascinates many collectors, due to a strong personality with a sophisticated form and a modern sense that uses silver and vivid colors based on monotone effectively.
■Exhibits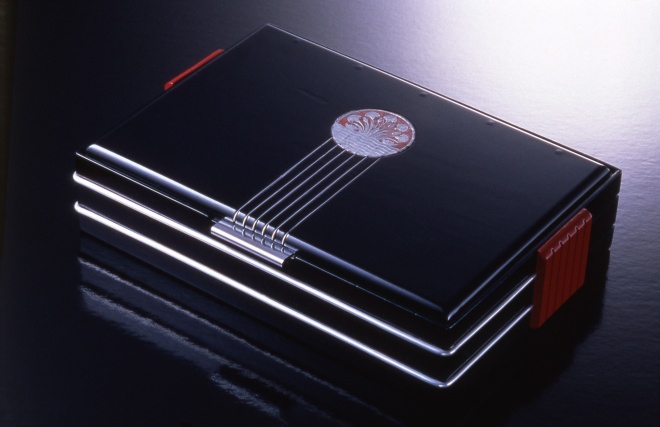 Jewel Box/Era: 1930s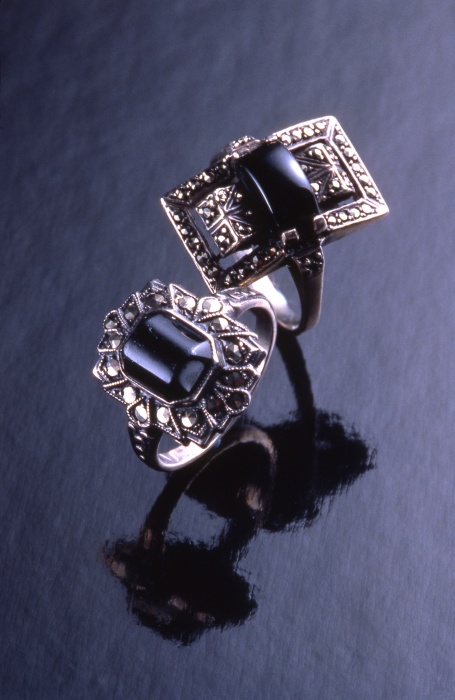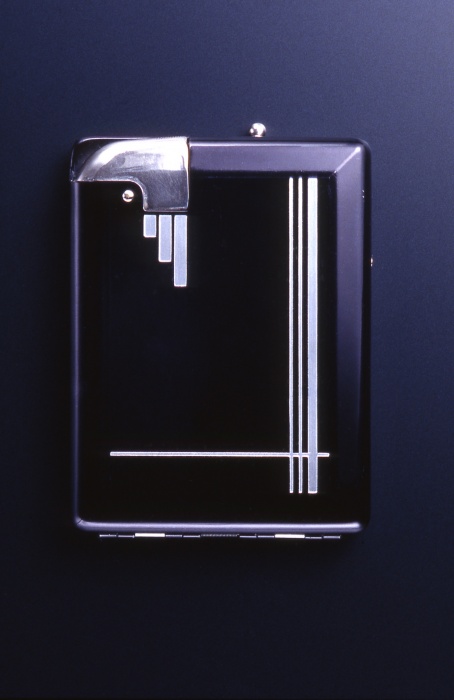 Rings/Era: Latter 1920s – Early 1930s (Left)
Automatic Smoking Case, Magic Case/Era: Early 1940s (Right)
Design Museum Collection Exhibition Series Vol.7
BLACK & CHROME|American Art Deco: A Monotone World
Period: August 11 – 27, 2000
Venue: Design Museum+Design Gallery, International Design Center NAGOYA
Organizer: International Design Center NAGOYA Inc.