Focusing on women in Nagoya and their growing influence on the city's lifestyle, the
[theme]
of this year's workshop is '50:50- Love & Marriage, Work & Children, Family & Society'. Under the
creative directions
of the award-winning team from
[BlueSponge]
(Canada), 48
young designers
from Canada, China, Hong Kong, Taiwan, Korea, Portugal, Thailand and Japan explored the city of Nagoya by conducting
field research
about the relationship between design and gender under the sub-themes of 'Building Communities', 'Work & Career', 'Security', 'Love & Marriage' and 'Gender'. On February 10, 2006, divided into 5 teams, the workshop participants presented their founding at a public symposium,
POWER TALK
, attended by around 80 persons including professional designers, educators, company managers, design students and reporters from Japanese media.
This workshop project has been blessed with so much passion and hope for our next generation and what the upcoming designers have in turn demonstrated is how they have the power and passion to apply their skills to make a difference in our everyday life. We hope the innovative propositions that are presented here by these upcoming designers will demonstrate how we can use design to improve everyday life.




(Flash player 7 or 8 is needed to browse this page)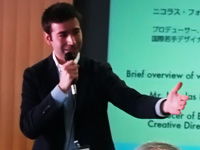 The 2006 edition of the International New Designers Worshop of Nagoya has shown itself to be a most creative playground for young designers and an incredible opportunity to exchange with a global community.

Yet the biggest challenge came with the subject of this year's workshop which focused on Women in Nagoya : building communities, work and career, security, love & marriage and gender. To have the opportunity to discuss the subject in a meaningful way and to tap into the secret lives, the divided lives, the desired lives of a variety of Japanese women in Nagoya. Such subjects related to women and to their new roles are central all over the world. But they often come with many taboos and a hush-hush attitude that tend to overlook real problems and focus on superficial aspects. But as many reports and studies show, one after the other, all societies will only be sustainable if women occupy an active role and achieve an equal and respected status.

The participants have been going back and forth mostly in Japanese and English; talking, drawing and miming concepts to each other during a full-packed week. They also had to come together and bridge the gap of their different backgrounds and cultures, learning how things work and how people are in other countries and opening themselves to the variety of lifestyles that were united by this global initiative.

For example, a new American law requires sex-offenders to belong to a publicly accessible register and in some cases to notify their entire neighborhood of their crimes. Could such a law be imagined in Japan? And what about 5$-a-day kindergartens in Canada's province of Quebec, an incentive to make young parents' lives easier and to acknowledge that they lead very different lives from their parents and have different needs? What are the social differences between such countries and their people? The participants were able to realize that they could each bring a piece of the answers, each from a different place.

In order to discuss the subject and to bring forth design propositions on a social scale, the approach to this year's workshop has been to use a documentary approach usually adopted by filmmakers, but in this case applied to design. They had a special lecture by Ziad Touma, Canadian producer and director, about documentaries and their production, with tips and techniques to transpose this approach to their work. The second lecture came from Mouna Andraos, creative director and interactive designer from Canada as well, about interactive communication and user scenarios, how the process could be applied to design. The last lecture was about public speaking, with a focus on the communication of ideas.

So throughout the week, the participants went into the city and interviewed different types of women, visited their places of work and leisure, homes and public places where they lead so many parts of their lives. They had to get close to them and understand the underlying social problems that are a part of their lives and of concern to them.

For each fieldwork activity, each team then created content modules in order to express in images, sound, video and text what they had just experienced. They had to apply concrete pieces of media in order to communicate general and conceptual themes or problematics. Each exercise was followed by a presentation to the entire group for feedback and further sharing. From there, they continued to research the themes and narrowed down their intentions to one problem and one intention to change the lives of women. They then worked night and day on a design proposition that could achieve real social change and concretely affect the lives of the users.

In this perspective, design becomes a combination of meaning and output. Product, industrial and graphic design come together and mix with experience, policy and interaction design.

Design for real social change, brought forth by a global perspective of communication and intentions that go further than a surface to tackle deeply rooted issues.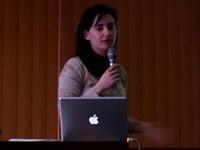 We opened the workshop with 40 different images of gender specific designs brought in by the students from all over Asia and the We opened the workshop with 40 different images of gender specific designs brought in by the students from all over Asia and the World.
Most of what we got then where expressions of divisions, of specificities between men and women.
But seven days later what we saw were images of collaboration, attempts at bridging the gap between gender, and propositions reaching out and examining the causes and questioning the divided worlds of men and women. While researching and analyzing the situation of women in Nagoya, this year's young designers have attempted to conceptualize and propose universal design solutions that talk about what it is to be human first and tailor them to the very specific Nagoyan realities. But rather than designing different button folds for women and men, pink cell phones for girls or gender targeted marketing campaigns, the workshop has demonstrated that it is possible to start designing for both genders together and express the need for shared purposes, concerns and responsibilities.

The revised taxi proposition is an example of how to modify and adapt an existing service to better embrace the needs of the entire population: where taxis were, albeit un-intentionally, more easy and functional for a confident male population, the student's re-design transforms them into welcoming and functional environment for all, men, women, elderly and babies.

The "uni-life" team offers us a vision of gender-free design, proposing real objects to bridge the gap between traditional gender tagged tasks; creating hybrid functional objects that bring the home closer to the office and the office into the house. Through concrete ideas, they offered us a vision of how design can truly help change people's daily lives and slowly affect social norms and rigid mentalities.

In a parallel way, the community truck aims at the similar objective of bringing the men into the traditionally women only world of birth, children and communities in general. When the walls are teared down, couples, families and neighborhoods can understand how they can help each other to build a society where everyone finds the support they need at any stage of their lives.

The social subway network system creates community and builds human connections so that men and women can live (and commute) next to each other and trust rather than fear one another. By focusing on a specific woman security issue, they showed us how solutions of segregation and division only bring about more problems and that only by tackling the source of problems can we hope to truly bring long-term solutions.

And finally, the "Je t'aime" (I love you) proposition hopes to break the taboo behind relationships and bridge the gap between the ideal visions of young women with regards to love and marriage and their increasing anxieties. "Je t'aime" proposes a space for young people, girls and boys, men and women, to communicate and exchange their perceptions and feelings so that their couples can become the strong foundation cells that will create tomorrow's society.

As designers, they went out and observed the world around them, they questioned and researched and examined people, situations and data in order to better understand the task ahead of them. Design was the tool they had to propose solutions and each team chose a different approach to answer the common goal of proposing a better vision of the world they researched and observed. Through propositions of policies, of products, of spaces and experiences, they are illustrating how design is truly about changing people. As designers, we create scenarios of use that inform changes in user's habits and behaviors and inevitably start to deeply impact the social fabric. And each time we imagine a better life, an easier life for someone, we step beyond form and aesthetic and enter the realm of anthropology.

Through these specific design propositions, the workshop participants offered us a vision of a world where a woman can be safe and autonomous and where individual choices and desires can be respected as they are, regardless of gender and beyond taboos. The young generation of Japanese men and women face enormous challenges ahead of them and the results demonstrate that positive and appropriate solutions can should be created, one issue at a time, in order to construct a better global system.

It is in the hands of the youth to create the world they want to live in, sitting together around a table, hearing each other's opinion and overcoming language and gender barriers. We hope they will continue doing just what this workshop did: to hear and observe the world and go back to the drawing board to redraw everything they don't like and bring to reality the vision they have of the world they want.

If they are given context to express these visions and gain the confidence that slowly, with concrete and precise realistic propositions they can truly impact what they experience around them, then surely they will take up the challenge and show us what the true solutions need to be.
And the enthusiasm and energy of the students this week, their dedication and excitement are the best demonstration they are clearly up to the challenge if only they are given the chance.