home>
Report: IdcN 20th Anniversary Commemorative Projects

Report: IdcN 20th Anniversary Commemorative Projects
The International Design Center NAGOYA, a hub of support for design creation, was founded in 1992 as a third-sector limited company funded by local business communities, Aichi Prefecture and the City of Nagoya. In 2012, we celebrated our 20th anniversary.
 After Nagoya declared itself "Design City Nagoya" in 1989, the International Design Center NAGOYA worked to expand domestic and international networks through various design promotion initiatives. Today, upon the 20th anniversary, we are starting down the path towards our next 20 years, through the nurturing of human resources with Creative Design City Nagoya as our keyword, with the goal of realizing a society of continuing abundance.
 Between October 2012 and January 2013, we held several commemorative events, including exhibitions, forums and workshops. The commemoration period was a success, with the great assistance of not only our shareholders, but also administrative bodies; design support organizations and design groups in Japan and abroad; educational institutions and designers, all of whom have supported 20 years of activities, making it a precious opportunity to reconnect with our mission of acting as "a hub of support for design creation".
The 20th Anniversary: IdcN Commemorative Projects
Period: October 18, 2012 – January 6, 2013
Venue: International Design Center NAGOYA
Organizers:
International Design Center NAGOYA Inc. (IdcN)
Japan Industrial Designers' Association (JIDA)
Japan Interior Designers' Association (JID)
Polish Poster Exhibition Organizing Committee
The Organization of Advertising Creation (OAC)
Co-organizers:
Council of Chubu Design Organizations (CCDO)
OAC YUME CLUB
Oriental Culture & Design Center, Kookmin University (Seoul, Korea)
Cooperation:
Creative Design City Nagoya Organizing Committee (CDCN)
Supporters:
Chubu Bureau of Economy, Trade & Industry, METI
Aichi Prefecture
City of Nagoya
The Nagoya Chamber of Commerce & Industry
Chubu Economic Federation
Major Projects



IdcN Commemorative Exhibition
[re:think] Japan+Korea|Design
With an exhibition and gallery talk featuring the creators, we introduced Japanese and South Korean products in which traditional techniques and everyday materials underwent a change in perspective through design [re:think]. (Venue: Design Gallery/Exhibition: Thu., October 18 2012 – Sun., October28 2012/Visitors: 340/Gallery Talk: Fri., October 26 2012- Sat., October 27, 2012/Participants: 98)


IdcN Commemorative Forum
Part1: JID Forum "Cool Living" Part2: Talk Session "Nagoya Design"
In the first part of this event, fashion designer Junko Koshino and Board Chairman Toshiyuki Kita fervently discussed Japanese culture's magnificence and its spirit of hospitality. In the second part, veteran and young designers traded opinions on the originality and creativity of Nagoya's culture, the role of design and its vision of the future, among other things. (Venue: Design Hall/Wed., November 14 2012/Participants: 360)


Networking Party
Attended by multiple long-term supporters, designers, design organizations, the representatives of other Design Cities in the UNESCO Creative Cities Network, our own shareholders, and those in our administration, this event began with the Commemorative Forum lectures and was a grand success. (Venue: Design Hall/Wed., November 14 2012/Participants: 250)


CCDO1: CCDO Design Awards Exhibition
The Work of Design Professionals
In this event, planned by the Council of Chubu Design Organizations (CCDO), introduced 67 winners from the past six biannual CCDO Design Awards, in which the Council recognizes individuals from its 15 member organizations who have done remarkable work. (Venue: Design Gallery/Wed., November 14 2012 – Mon., November 19 2012/Visitors: 397)


CCDO2: Nagoya Kids Design Exhibition
The exhibition showcased the work of 49 groups of members of the 15 organizations belonging to the Council of Chubu Design Organizations (CCDO) who in their fields of product, architecture, space or graphic design show particular concern for a combination of children's safety or sense of security and play and amusement. (Venue: Design Gallery/Wed., November 21 2012- Mon., November 26 2012/Visitors: 550)


CCDO3: Student Work Exhibition
Design Practice through Industry-Government-Academia Cooperation
This was an exhibition of student work in applied design. This industry-government-academia collaboration produced a wide range of results (all carried out exclusively by students), from regional events and local revitalization promotions to the development of new products, brands, and advertising tools. (Venue: Design Gallery/Wed., November 28 2012 -Mon., December 3 2012/Visitors: 338)


CCDO4: Industry/Designer Partnership Exhibition
Designs in this show resulted from collaboration between companies and designers. For the exhibition, we chose and showed superb work that exhibited a relationship of mutual trust. The event was an opportunity to encourage understanding about partnerships. (Venue: Design Gallery/Wed., December 5 2012 – Mon., December 10 2012/Visitors: 565)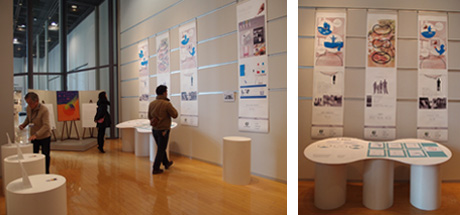 JIDA 60th Anniversary Exhibition: JIDA JUNIOR START SHOW
JThis exhibition featured the work of the newly formed Junior membership group, made up of young product designers and students in the JIDA Chubu Block. Displays showed future kitchen design as seen from the fresh viewpoint of these young creators. There were also held a lecture and a mixer for design students. (Venue: Design Gallery/Wed., December 5 2012 – Mon., December 10 2012/Visitors: 303)


Polish Posters '50 -'60: The Power of Communication Design
We exhibited 95 pieces at this event, all from the Poster Museum at Wilanów, including many created between 1950 and 1960. The show, garnering praise from both the younger generation and citizens in general, was an opportunity for people to experience firsthand design's power of communication. (Venue: Collection Gallery, Design Gallery/Wed., December 12 2012 – Sun., January 6 2013/Visitors: 2,822)


The 10th OAC Creative Forum Nagoya
Part1: "The Origin of Polish Posters" Part2: "Design and Myself"
This event ran concurrently with the Polish Posters show. Close to 70% of the participants were students, and all were observed intently listening to art directors at the creative cutting edge and learning about both the background of the birth of Polish posters, with their still-powerful messages; and the history of Japanese poster design. (Venue: Design Hall/Wed., December 12 2012/Participants: 360)