home>
American Art Deco Design for Living

Collection Exhibition Series Vol.5
American Art Deco Design for Living
American Art Deco Design for Living (Flyer image)
The refined linear look of American art deco in the 1930s touched a wide variety of fields, from interior and graphic design to furniture and modern accessories, quickly penetrating daily life. In this exhibition, each material and motif was organized by theme, with the display focusing on American furniture of the 1930s, but also including accessories, photos and other objects chosen to evince art deco-era design for living.
From the late 1920s to the 1930s, the United States met the construction rush of a skyscraper represented by the Empire State Building. Many of these buildings, called skyscrapers, incorporated the Art Deco style originating from France, and its innovation had a strong impact on people. This style, characterized by sophisticated decorations represented by geometric patterns, had spread to a wide range of fields such as interior and graphics, and modern small articles and furniture had colored people's lives.
In the early years, furniture of the Art Deco style that was limited to imports from France was expanded by the emergence of domestic designers such as Donald Deskey and Paul Frankl in the next few years. The design changed to a simpler and more dynamic one, and at the same time, due to the lower price of machine production, the admired lifestyle became easy for the public to reach.
A smooth streamlined sofa and black lacquered dining table. A chair that draws a beautiful curve using a chrome tube. Each claims a state-of-the-art style at the time with new materials and forms. What is admired is that each one has a strong character yet does not kill in one space and increases its appeal. Although a trend exists in any era, it seems that the design style which has such a strong individuality and covers the whole living style can not be readily seen in recent years.
■Exhibits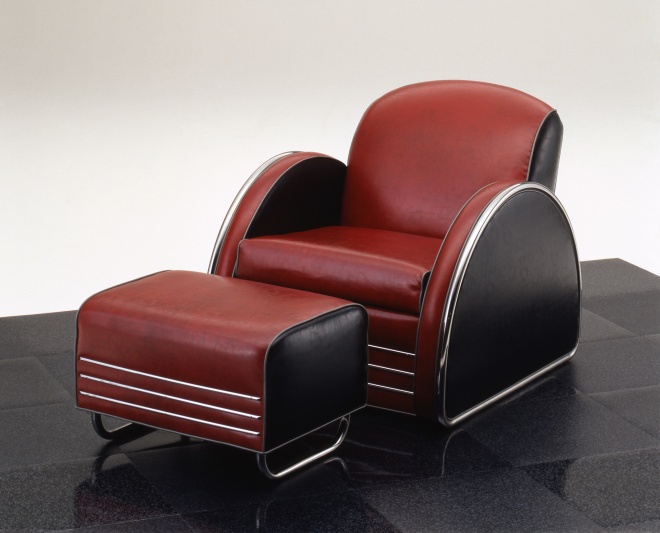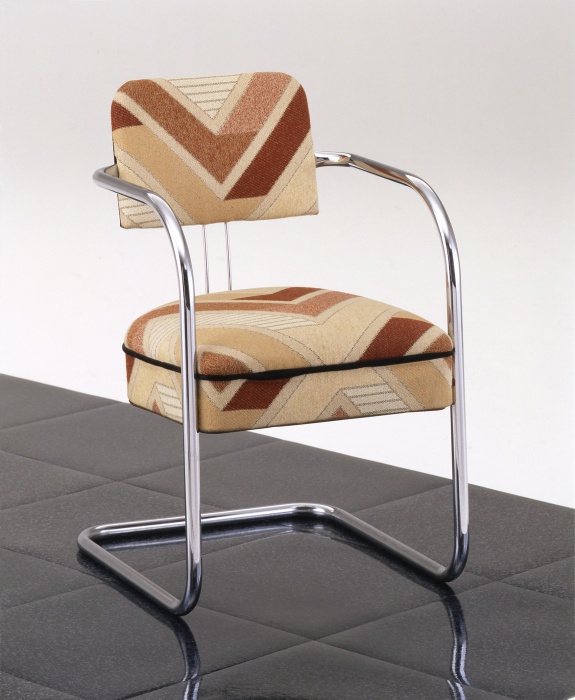 Club Chair and Ottoman/Year: 1934/Designer: Donald Deskey (Left)
Chair/Era: Mid-1930s/Designer: Kem Weber (Right)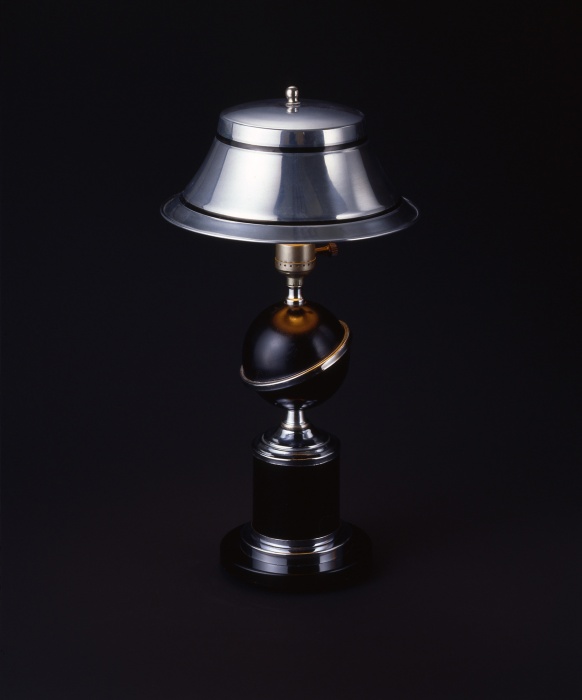 Table Lamp/Era: Mid-1930s
Design Museum Collection Exhibition Series Vol.5
American Art Deco Design for Living
Period: April 23 – May 16, 1999
Venue: Design Museum+Design Gallery, International Design Center NAGOYA
Organizer: International Design Center NAGOYA Inc.