PERSPECTIVES > CRAIG AU YEUNG PROFILE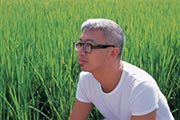 Craig Au Yeung Ying Chai
International New Designers Workshop 2004 Creative Director
Craig Au Yeung Ying Chai, an experienced and renowned cross-media artist based in Hong Kong.
Graduated from the Hong Kong Polytechnic University with BA degree in Visual Communication in 1987 and a Master of Philosophy degree with research thesis on 'The Hong Kong Ideas of Home' in 1996.
Au Yeung was a DJ / Producer / Creative Director in Hong Kong Commercial Radio Brocasting from 1988 to 1997. At the same timehe worked as creative and art director for various design and advertising campaigns and was image director for various local pop singers.
Au Yeung started his comix columns in newspapers and magazines dated back to his schoolyears. He has published 13 comix titles and edited 4 issues of alternative Chinese comix collection.
Au Yeung also writes extensively on design and home living issues, making review and commentry on international architeture and design trends and contemporary Chinese home living culture in greater China region.
Starting from 2002, Au Yeung started to publish his "Home" series with Locus Publishing Taiwan and since then produced 5 titles namely "Home, Chinese Home" - I and II, "Design / Myself", "Half Full", "Blow-Up Italia", covering topics on individual home living experience of creative people in different Chinese cities, the function of design objects in daily living environment, and also the appreciation and practice of home cooking.
He puts great effort towards nurturing the next generation of designers by communicating with students via lectures and holding workshops in universities and design school in HK, Taiwan and other Chinese cities.
With professional partners, Au Yeung started the design consultancy firm HERE in 2000.

 Back to Top
New Designers Workshop 2004