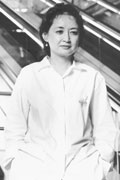 Leimei Julia Chiu
Director, International Design Center NAGOYA Inc.
Leimei Julia Chiu has spent most of her adult life working to help designers and students of design promote their work across national and cultural barriers. To this end, she has striven to help them achieve true cross-cultural experiences that will add to their lives and enrich their output as professionals. Born in Taiwan, raised and educated in the USA and later in Japan, Leimei has acquired a diverse cultural and academic foundation. Her areas of formal study were Mathematics, Chemistry, Linguistics, and Cross-cultural communications.

As a genuine product of multicultural education and life experiences, Leimei has made the best use of her abilities by concentrating on strategic development, execution, and consulting for design promotion around the world.

Leimei serves as Director of Global Communications for the International Design Center NAGOYA (IdcN). IdcN is a multi-disciplinary joint venture between the Japanese government and a consortium of 102 corporations. It is one of the largest institutes in the world devoted to the promotion of design. In her capacity there, Leimei has instigated and acted as creative director for a multitude of design promotion projects. Her goal has always been to promote and inspire designers as individuals. This determination has led her to conceive of unique and challenging projects suited to the participants and their work. Leimei's workshops and competitions have consistently proven fruitful; those involved would certainly agree that the more demanding the project, the greater the results.

In her design promotion projects, carried out in both private and public sectors, Leimei has worked with major Japanese corporations as well as with governments and academic institutions in countries across Europe, North America, and the Pan Pacific Rim. From 1997 through 2001, Leimei acted as Vice President of the International Council of Graphic Designers Association (Icograda). She has served on numerous competition juries, including Brno Biennial, Design for Asia Award; and currently serves on the Jury of the Good Design Award, Japan's only overall system for evaluating and promoting design.

 Back to Top
New Designers Workshop 2004